Covid Vaccine Information
Coronavirus Patient Information
Vacccine Update
First Doses
We are not currently offering more first doses
We have done 7089 first doses (70% of our 10000population) and4519 second dose as of the 8th June.
We have already delivered 70% of Cohort 12 (Age 18-29 patients) 1st doses ahead of the government schedule.
This would not be possible without the work of an incredible volunteer force down at Dore Surgery staffed by people from across our neighbourhood. Thank you all so much.
We recommend anyone still in need of a first dose contact the national booking hotline
Book or manage your coronavirus (COVID-19) vaccination - NHS (www.nhs.uk)
Second Doses
We are working to accelerate the schedule to 8 weeks for second doses for those >50year old.
We will aim to keep appointments at the planned 11 week interval for under 50's, but it may be brought forward nationally.
We will text any change to appointments via AccuBook.
COVID-19 vaccine information
Phase 2 of the NHS Covid-19 vaccination programme is now under way.
Please click here for information on vaccination centres and more.
COVID-19 vaccination status /How to access my vaccine record or vaccine passport?
Please do not call us for a covid 19 vaccine record or vaccine card. The original vaccine cards were only to help people know their second dose dates, which have often changed as the vaccine schedule changed. We have delivered over 7000doses and it is not appropriate or necessary for practices to provide this information.

Vaccination update
We are now on second doses of cohort 1-9 and will be starting first doses of cohort 10-12 as per national schedule. The interval between first and second dose is now an 11-week interval.
18 years and over vaccination booking options
To book in for your COVID vaccine you can either click on the poster adjacent or click on any of the link below for futher information on a walk in service.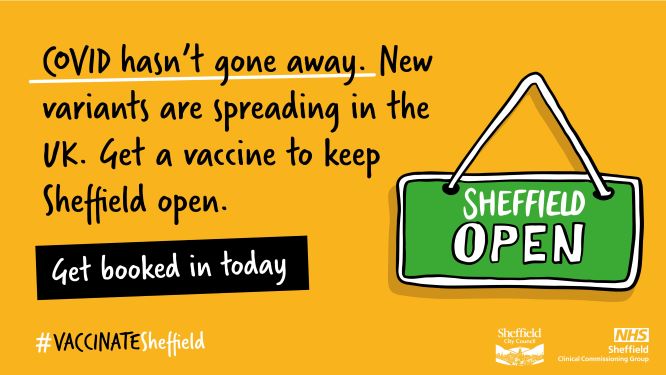 Can I choose which vaccine I get?
It will not be possible to give a choice between different vaccines as the healthcare professional vaccinating you will have to use the vaccine that is available at the time of your appointment.
What's the difference between the different vaccines?
The vaccines that the NHS uses and in what circumstances will be decided by the MHRA. Both vaccines are classed as being very effective. The Oxford/AstraZeneca is easier to store and transport, meaning we can deliver them in more places, and we expect to have more doses available as they are manufactured in the UK, so we would expect that most people are likely to receive this vaccine over the coming weeks and months.
COVID-19 vaccination and blood clotting - Information about your vaccination
Public Health England information leaflet
PHE_COVID-19_AZ_vaccination_guide.pdf
Where can I read about the COVID vaccine?
Please find this information here
It's being given to:
people aged 40 and over
people who will turn 40 before 1 July 2021
people at high risk from COVID-19 (clinically extremely vulnerable)
people who live or work in care homes
health and social care workers
people with a condition that puts them at higher risk (clinically vulnerable)
people with a learning disability
people who are a main carer for someone at high risk from COVID-19
More information can be found on the CCG's website in the Frequently Asked Questions section https://www.sheffieldccg.nhs.uk/Your-Health/covid-19-vaccine-faqs.htm and you can also book your vaccination via this link or it can be done via the telephone by ringing 119.
Should I contact the practice?
We will contact you for the appointment. We have over 5000 patients eligible and will follow the recommended priority schedule.
It is extremely busy so please think before ringing us to ask for the vaccine early.
We do not need you to contact us unless it is to update your contact number (mobile) or if you need to cancel a booked Covid vaccine appointment.
When is my second vaccine?
This will be booked in 12 weeks from your first appointment at the time of booking.
Where is the vaccination site?
The Vaccination Site: Dore Surgery, Dore Road S17
Please click here for information on the vaccination location.
What will happen at the site?
Watch this video to get an understanding of what will happen at the DORE surgery site
Who is vaccinating me?
Staff from across surgeries from the Porter Valley Network are involved in running your vaccine service.
What vaccine will I get?
Both Pfizer and AstraZeneca are currently licensed. We will offer what is available. We cannot accommodate requests or a specific vaccine.
I've had a letter from NHS England about the Arena offering my vaccine - what should I do?
The Government are rolling out national vaccine centres. They are sending letters without knowing if you already have an appointment at our site, or if you have already had your vaccine. If you chose to book at the arena they will offer you your second dose in 12 weeks. If you have had your vaccine with the Dore Site we are expecting to do your second dose in 12 weeks.

Why are other areas of the city already doing other priority groups?
Your Surgery and the PorterVally Network signed up to deliver the vaccine in December and are working very hard to vaccinate as quickly as possible.
We are limited by or deliveries and number of vaccines. We have made an incredible start and the difficulty is that we often are getting told of deliveries with less then a weeks notice. Read more from our Porter Valley Network Clinical Director Dr Emery at https://portervalleyprimarycarenetwork.gpweb.org.uk/index.php/pcn-news/item/porter-valley-pcn-covid-19-vaccination-update
PORTER VALLEY PRIMARY CARE NETWORK NEEDS YOU! WOULD YOU LIKE TO VOLUNTEER TO HELP?
If you would be interested in volunteering at the Dore Road Surgery vaccination hub, please see further information here.
Please be advised that we are currently working as quickly as possible towards rolling out the Covid-19 vaccine, please can we ask you not to contact us, we will be in contact with you once we have a roll-out plan and in a position to book appointments for Covid-19 vaccinations.
The current estimated date to start the vaccinations is the week of the 4th of January. Please note this keeps changing for reasons outside of our control.
Please do not contact us about this. We will contact you when we are ready for you. We can only vaccinate in the order listed below.
Who is eligible and when you can expect to be contacted
As of December 2020 we understand from the latest government guidance that our priority order for vaccinating patients is as follows.
residents in a care home for older adults and their carers

all those 80 years of age and over and frontline health and social care workers

all those 75 years of age and over

all those 70 years of age and over and clinically extremely vulnerable individuals[footnote 1]

all those 65 years of age and over

all individuals aged 16 years to 64 years with underlying health conditions which put them at higher risk of serious disease and mortality

all those 60 years of age and over

all those 55 years of age and over

all those 50 years of age and over
It is estimated that taken together, these groups represent around 99% of preventable mortality from COVID-19.
Vaccination Appointment Enquiries
If you have received a letter from the national booking system about a vaccination appointment and have any questions about this, please contact the number on the letter. The practice does not have any information on the centres and is not able to book appointments for patients at these venues.
If you would prefer to have your appointment at our local service, you do not need to do anything – we will contact you as soon as an appointment is available.
If you are aged (75) or over, and have not yet had a vaccination, you may get a letter from the NHS national booking system inviting you to make an appointment at a large scale centre like Sheffield Arena.
These are being sent to people who live within 45 minutes of one of the centres that has been opened, which might be in a different area to where you would normally receive your healthcare.
Please note that you do not have to book an appointment at one of these centres if it is not convenient for you to get there. You can choose to wait for an invitation from your local GP practice. Please do not contact your local practice about an appointment until you receive an invitation from them.
Who is Being Vaccinated?
Over 70, clinically extremely vulnerable and frontline health and social care worker
If you are over 70, clinically extremely vulnerable or a frontline health and social care worker and yet to have the vaccine yet for whatever reason, it's not too late to come forward. You can now book a vaccination appointment online at https://www.nhs.uk/conditions/coronavirus-covid-19/coronavirus-vaccination/ or call the free number on 119.
Additions to the clinically extremely vulnerable list
On 16 February, the government announced they were expanding the number of people being asked to shield, that is those identified as being clinically extremely vulnerable to serious complications from covid.
Rather than being place on the shielding list as a person that has one type of health condition, people are being asked to shield based on a combination of factors including underlying health conditions, ethnicity, age, weight and deprivation.
All people now identified as extremely clinically vulnerable will get a letter from the government asking them to shield explaining what they need to do. This means they will be advised to stay at home as much as possible and offered help such as for food or getting medicines where needed.
This data will be shared with GPs and they will be prioritised for being vaccinated. If newly added shielded patients haven't yet had a vaccine, please do not contact your GP about the vaccine, they will contact you when they have supply available.
At risk adults aged 16-64 and the over 65s
From 15 February, people from the next two priority groups will start to be offered the covid jab.
The NHS will contact people in the 65 to 69 age group, and people at risk aged 16 to 64 with an underlying health condition.
GP led primary care networks will focus initially on those with an underlying health condition because of the relationship between general practice and those with long-term conditions, and continuity of care.
People aged 65 to 69 will be invited by letter to book an appointment at a large vaccination centre such as Sheffield Arena. If you're aged 65 to 69 and want to wait to be called by your primary care network or who have already received the jab you do not need to respond to the invitation.
This is the biggest vaccination programme the NHS has ever undertaken and these are the largest groups to vaccinate so far and will take time to contact everyone. In the meantime, please don't call your GP to enquire about a vaccine, the NHS will contact you when you're eligible and we have a supply of vaccines.
Carers
The NHS and council are compiling a list of carers based on who receives the carers allowance or those known to SCC, carers centre and their GP.
Once a list of unpaid carers has been pulled together by the council and NHS, all those who are eligible adult carers will be contacted via the national booking system to receive an invitation to book vaccination through at large vaccination centre such as Sheffield Arena.
Adult carers who are flagged on their GP systems will also be offered vaccination via a primary care network.
We ask people to not contact their GP with vaccine query.
Clinically Vulnerable Patients
Clinically vulnerable people are being vaccinated in cohort 6. The JCVI defines clinically vulnerable people as those with:
· Chronic respiratory disease, including chronic obstructive pulmonary disease (COPD), cystic fibrosis and severe asthma
· Chronic heart disease (and vascular disease)
· Chronic kidney disease
· Chronic liver disease
· Chronic neurological disease including epilepsy
· Down's syndrome
· Severe and profound learning disability
· Diabetes
· Solid organ, bone marrow and stem cell transplant recipients
· People with specific cancers
· Immunosuppression due to disease or treatment
· Asplenia and splenic dysfunction
· Very obese (BMI of 40 or above)
· Severe mental illness (such as schizophrenia or bipolar disease)
GP practices will be working through their lists of patients and will contact them when they are eligible and have supply of the vaccine.
Please don't be worried if you or a family member is in one of the priority groups and hasn't heard anything so far.
You might know others in the other priority groups who have been invited for their vaccination already, but that does not mean that you or your relative are a lower priority or have been forgotten.
This is the biggest vaccination programme in UK history and this is one of the biggest cohorts of patients which means it will take time to vaccinate all the eligible people.
Supply of the Pfizer and Oxford vaccines are coming through in small batches, which means we are rolling it out in waves. This means you may be contacted at short notice to attend your vaccination.
The NHS is working hard to vaccinate as many people in this group as quickly as possible and many more people will be invited in.
Thank you for your patience.