24th Nov
Dr Niki Bramwell joins the Hollies Medical Centre
My name is Niki Bramwell and I will be joining the Hollies Medical Centre as a GP partner in December. Although I am expecting this winter to be challenging I am looking forward to working with such a great team and meeting all the patients.
I worked for many years in Obstetrics and Gynaecology but moved into general practice as I wanted to be able develop long term relationships with patients. I also missed the breadth of medicine that comes through the door every day in a GP surgery. My areas of specialist interest continue to include women's health as well as providing holistic care to all patients, especially those with multiple medical problems or advancing age.
16th Oct
Online Access using AccurX at the Hollies Medical Centre
You can request an appointment with the GP online with AccurX messaging via the appointment page. Just follow the link on the appointment page and send us the information about your request. This Is for routine enquiries, please call if it is urgent.
There is more information on the Appointment page. We are often dealing with most enquiries within a working day, and arranging your tests, referrals and seeing you at the surgery after messaging and calling you on the phone. We will always see you in the building if necessary and safe.
Why have we got AccurX?
We started to use AccurX during March 2020 to help work remotely during the star of the Covid 19 pandemic. It meant we could easily message and video call patients when we are in lockdown and helped staff work from home in isolation.
We now use it to message patients regularly, receive photos and follow you up. You can message us to help us understand your problem and arrange your contact with the team. We are required to triage all entry to the building still, and this is not likely to end soon.
You can send a request for your dependants and those you care for too. We value your feedback of this innovation, which is helping us deal with unprecedented demand through the Covid19 pandemic.
Many thanks
The Hollies Team
9th Oct
Important update
The last 6 months
Thank you to our staff and patients for dealing with a huge shift in how we are being asked to work both at the surgery and in the wider NHS. This is far from over and more change is likely to come; we will continue to provide safe care in what are unprecedented times. ​
Practice Appointments
All our GP appointments are currently via telephone or online in the first instance in line with current national guidelines. We recognise that this is a change from our previous ways of working and this is challenging for all of us.
These changes have been made for the safety of patients and for staff; we simply cannot have possible COVID patients within the building alongside our previously full waiting areas.
We have been open throughout the pandemic and we have seen patients face to face that needed to be seen and assessed, whether this is our health care assistants, nurses or doctors. This has not changed.​
Verbal Aggression to Staff
Unfortunately over the last few months we have noticed increased incidents of verbal aggression and disrespect towards staff, both on the phone and at the front door. We appreciate how difficult life is at the moment for all of us and understand it can be frustrating, particularly when phone lines are busy and when the systems are working differently. We share this frustration and hope our online messaging and appointment booking will help.
We recognise there will be challenges throughout the winter but is not acceptable to be verbally aggressive or abusive to staff, and sadly this is happening often on a daily basis at the Hollies.
We endeavour to be kind and courteous to all our patients and would expect the same treatment in return. We particularly recognise the challenging situation our receptionists have in dealing with the demand. Without our fantastic reception team we simply would not have a Hollies Medical Centre.
We hope to continue to work together during this challenging period to continue to support each other.
Appointment times & "Do Not Attends (DNAs)"
We urge patients to attend on time for their appointments, particularly with the practice nurses and healthcare assistants. Over recent weeks we have had a number of occasions where patients have arrived late for their appointments. With the increased demands around wearing PPE, cleaning between patient contact and the importance of social distancing in the waiting rooms, it may not be possible for appointments to proceed for those arriving late. It is likely to not be possible to reschedule missed appointments without a significant wait.
There is a very significant pressure on appointments at the moment. It is likely these pressures will continue to increase over the coming weeks due to the rise in winter illness and COVID cases, staff isolation and staff illness.
Stay Safe
We are working very hard to safely maintain routine General Practice whilst balancing this COVID workload. Your support is always appreciated and we will endure winter 2020 together.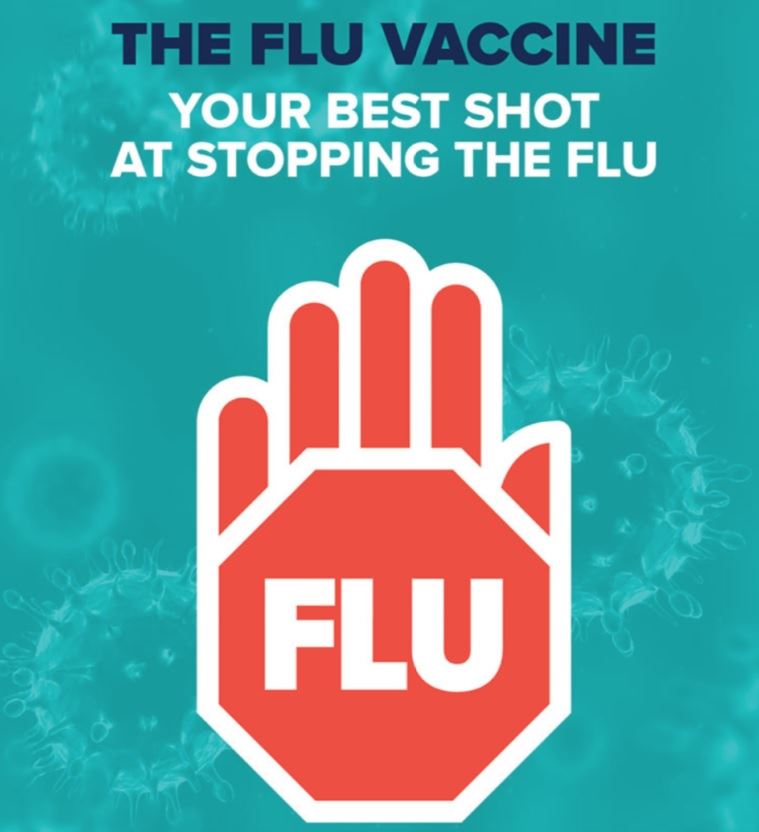 11th Sep
Flu Clinic 2020
This year we have changed how we will offer you a flu vaccine. We expect delivery on the 28th September and are arranging weekend flu clinics:
Please ring the week commencing 14th September to book an appointment if you are eligible for one of the below dates:
Saturday 3rd October 2020 AM
Saturday 17th October 2020 AM
Please check below to ensure you are eligible and please contact reception to make an appointment.
We will also offer appointments with our healthcare assistants in October and November. These appointments are now available to book at reception. Please ensure we have an up to date mobile number, so we can keep you updated if necessary.
For our weekend events we must be vigilant to maintain social distancing, so they will all be done on the ground floor. We will operate a one way system and it will be necessary for you to queue outside, with designated standing areas, there will be no seats to sit on or any toliet facilities on the day and there is also a few steps on the way out of the building, if you struggle with mobility please book in on alernative date as we need to maintain the one way system.
We will also be offering a pneumonia vaccine to those eligible, at the same visit, to save you any avoidable visits to the practice.
Our clinicians will have administration staff on hand to ensure your medical record remains up to date with the vaccination details added at the time of vaccine. Please note we cannot provide other services during the flu clinics.
All staff members will be wearing full Personal Protective Equipment (PPE). The guidance for PPE for flu clinics is being regularly updated.
At Risk patients eligible for the flu vaccine:
We will firstly be inviting patients aged OVER 65 years,
and those who are under 65 years WITH health conditions making them eligible for the vaccine.
Later in the Autumn we will be arranging the vaccination of eligible children.
Lots of people are asking about the flu vaccine for those aged 50 to 64 years; these will take place AFTER at risk patients are offered the vaccine and if stocks allow.This is likely to be November or December and depends on further government guidance.
We will update more information nearer the time. Please follow our website.
Thank you
5th Aug
Changes to practice consultation procedures
Due to the changing circumstances we are asking patients to avoid unnecessary contact with the practice to ensure patient and staff safety.
If you're attending the practice please ensure it is absolutely necessary,If you have been invited to attend the surgery by one of our clinicians we ask that you wear a face mask and also limit contact with others and follow strict hand hygiene advice.
Any person with any respiratory symptoms or temperature should seek advice via 111 or 111 online and not attend the practice.
Any patients with long term conditions or reduced immune systems should avoid contact at the practice unless first advised by one of our team.
Like other practices in Sheffield we are moving towards more telephone triage and assessment, and we are grateful for your patience as we adapt to the current pandemic and PHE advice.
You can contact us via telephone, request a telephone call back via our website or email us.
Please refer to our website that we will update as often as possible and the current 111 guidance if you or a family member are unwell.
If you're attending the practice please ensure it is absolutely necessary, limit contact with others and follow strict hand hygiene advice.
If you need a sick note for self-isolation please click here.

You will also be able to get a sick note issued by 111 for self isolation, do not contact the surgery for this.
Also please register doctorlink this is another option to contact the surgery https://app.doctorlink.com/holliesmedicalcentre/register
5th Aug
Register for Online Services
Our practice offers a wide range of services through an electronic system called SystmOnline.
This will allow you to manage your prescriptions electronically and allow you to book appointments online, view your summary medical record and vaccination history.
We are actively encouraging the use of SystmOnline as this will ease the pressures faced on our reception and administration team and is also more secure system.
To set this up we will need official photo I.D such as your passport or driving licence for example to be able to release your login details.
Please use the link below to access the registration form. Alternatively email or arrange a telephone consultation with one of our administration team, if you would like to get this set-up or have any queries. One of our administration team will get back to you as soon as possible.
Please note when receiving a call from us, this will be a withheld number. Email: hollies.prescriptions@nhs.net Telephone: 0114 255 0094
Please click here to access the registration form.