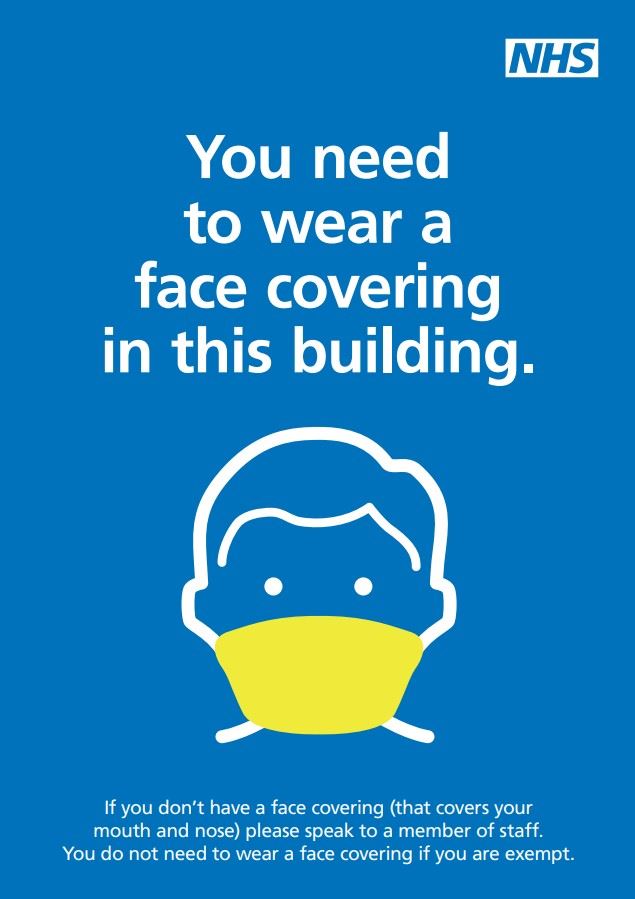 14th Jul
Face Coverings in the Practice
With immediate affect, in response to rising Covid-19 case numbers in Sheffield, GP practices in Sheffield have been instructed to re-introduce the necessity of face masks for all staff, and patients who are able to wear face coverings when visiting the practice.
Thank you for your support and understanding as we endeavour to maintain a safe and effective environment for all our staff and patients at The Hollies.
Many Thanks,
The Hollies Team
27th Jun
Increased SMS communications to update our systems and information
Over the coming months, in line with our new appointment system, we will be checking through most of our reports and files to make sure we have up to date information throughout our records.
Just to make you aware you may see an increase in SMS communications you receive from us over the next few months, however this is to ensure we have accurate information when planning the care of the community using our practice. If you prefer not to be SMS messaged, please let Reception know.
You can register for SMS updates and contact on our new Appointments page on the website.
Thank you as always,
The Hollies Team
20th Jun
CHANGES TO REQUESTING AN APPOINTMENT FROM 27/06/2022
We will be changing our appointment request and management system as of Monday 27th June 2022. This is to re-align our methods of work with post-pandemic ways of life and primary care expectations. Please read the information from the 'New Appointments Procedure' section on the home screen before booking an appointment. We will still be offering preliminary telephone appointments for initial traige by a GP, however, if necessary, we will arrange for you to come into the surgery when needed.
25th Feb
Grab A Jab: Sheffield JabCab
Free Cabs to get your Jabs
We've teamed up with Sheffield City Council to provide FREE journeys to and from vaccination appointments.
Available to all Sheffield* residents, the new "Jab Cab" scheme provides free taxis to and from the Longley Lane NHS Vaccination Centre, making it easier to get your Covid-19 vaccination and booster jab.
To book your journey, please call our dedicated team on 0114 235 8997 quoting 'SCC Vaccine'.
Your trip there and back will be paid for by Sheffield City Council.
The service is valid for appointments and walk ins** at Sheffield NHS Vaccination Centre Longley Lane only (Sheffield Vaccination Centre, Longley Lane, Sheffield, S5 7JN. Open 7 days a week, 8am to 7pm).
Taxis may carry multiple passengers from the same destination. Please specify how many people will be travelling when booking.
Accessible vehicles suitable for both manual and electric wheelchairs are available, please specify when booking.
To find out more about the scheme, visit the Sheffield City Council Website here: https://smarturl.it/fahblp
*Applicable on journeys to and from following Sheffield postcodes: S1, S2, S3, S4, S5, S6, S7, S8, S9 S10, S11, S12, S13, S14, S17, S20, S35, S36, S60, S61, S95, S96, S97, S98, S99
**Walk-ins available to 16+ only. 12-15 years old must book an appointment.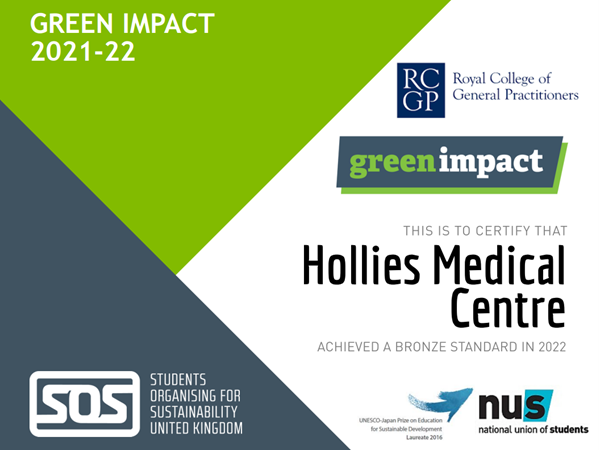 23rd Feb
Green Impact for Health - Bronze Award
Greener Practice is a primary care climate and sustainability network. We recognise that the climate and ecological crisis is the leading public health issue of our generation. We at The Hollies aim to raise awareness of the health benefits of climate action and support our primary care community to take practical action towards greener practice.
In recognition of this The Hollies Medical Centre has worked towards an environmentally sustainable health care and we have been awarded the Bronze award for doing so. As we continue to increase our sustainability we can also gain further accolades for acheiving this.
If you would like to know more please feel free to explore the Greener Practice website, www.greenerpractice.co.uk.
8th Dec 2021
Facebook
We are now on Facebook.
Please follow us for regular updates.
23rd Nov 2021
Open Letter to Sheffield Residents
4th Aug 2021
Good Health Certificate - Spain
We will NOT be completing any medical certificates of good health for the Spanish Embassy.
You will have to source a private GP to complete this for you.
7th Jun 2021
General Practice Data for Planning and Research (GPDPR)
NHS Digital has developed a new way to collect data from GP practices to use for health and care planning and research purposes. This is called the General Practice Data for Planning and Research data collection. The system launches on September 1st this year. The new data collection reduces burden on GP practices, allowing doctors and other staff to focus on patient care, helping to find better treatments and improve patient outcomes for everyone. Please note NHS Digital will not collect patients' names or addresses.
Please see (link to GDPR page) for more information, including how to opt out of the data collection if you should wish to do so.

1. Type 1 data opt out - Urgent action required as the opt out window closes on 23 June 2021
This is to protect GP data held on your system. Patients need to complete a form and leave it at reception.

2. Type 2 data opt out - No time limit
This is to protect non-GP data held on your system, eg hospital or clinic treatment.
Patients can do this for themselves by visiting the Make your choice webpage.
For children under 13 the form available hereshould be used.
For dependant adults the form available hereshould be used.
7th May 2021
Practice Update May 2021
We wanted to feedback to our patients what has been happening in practice lately, as we continue to try and make positive changes to our service throughout the pandemic.
Staff - We have recruited new members of the team in the last 6 months and they are invaluable given the current pressures. Dr Mike Hogan and Dr Nikki Bramwell have joined our GP team and our recently joined Pharmacist Debbie Craven is continuing to help us improve our prescription service. Dilraj our new Physician Associate is helping us deliver care at our 7 care homes and provide appointments at the practice. Maddie and Harriet have done a fantastic job of organising our vaccine appointments. Thanks to all for their hard work.
Birthday Review - We are always working to streamline how we review people with long term conditions. More and more patients will be invited to attend in their birthday month to have an appointment with our health care assistants so appropriate monitoring is undertaken. We will then arrange the correct nurse, GP and pharmacist review. We hope this will be simpler for patients and reception and allow us to free up more time to review those with long term conditions. More updates to follow.
Covid Vaccinations - We are of part of the Porter Valley Network ( a group of 6 local practices) and continue to offer community vaccinations. This has been possible through amazing volunteers and the hard work of all staff. We have done over 25000 vaccines across the area, and at the Hollies we have achieved over 6000 first doses, and 2000 second doses.
https://portervalleyprimarycarenetwork.gpweb.org.uk/index.php/pcn-news/item/covid-19-vaccination-update
Appointments - We are required by NHSEngland to triage all entry into the building on the phone first. We continue to offer mostly on the day access to help people get help quickly. The challenge has been to maintain this and still feel the service is safe and sustainable. The GP's have seen a dramatic rise in the number of contacts with patients daily ( we have had a week where our duty doctors have done over 100 appointments daily each) and we are concerned that is not good for your doctors, nor patient care. This is reflected in the national data where the number of GP appointments is at a record high, with a workforce that continues to shrink. Despite the reduction in national covid numbers it is stark that General Practice is offering the most appointments in its history.
https://www.bma.org.uk/advice-and-support/nhs-delivery-and-workforce/pressures/pressures-in-general-practice
Pressures in general practice - BMA - Home

In January 2020, 17.1% of patients waited longer than two weeks for an appointment – this is a 0.2% point decrease on December 2019. 54.1 million patients waited over 2 weeks between February 2019 and January 2020, compared to 47.6 million in the 2018/19 period.

owed many of you to send your query around your working day and avoid long waits on the phone. We are dealing with the majority within 0-1 working day. We ask that you just make sure you need our help before filling the form, and ensure you've tried self-care first. We may decide to switch off out of hours to better spread demand over the week and will make clear when its being turned on.
Hospital Appointments - a huge number of you are waiting for an appointment at Sheffield Teaching Hospitals. There are significant delays as the system recovers from the Covid 19 pandemic. Please contact your consultant or their secretary directly if you are chasing up an appointment, your GP is limited in being able to make appointments happen sooner. This is a national issue and will take months and years to resolve.
https://www.bma.org.uk/advice-and-support/nhs-delivery-and-workforce/pressures/pressure-points-in-the-nhs
22nd Apr 2021
Change to GP Appointments
Due to GP workload increasing massively in the last few weeks we are limiting the number of GP appointments available per day. Responding to the current demand is not sustainable and potentially is not clinically safe. Please help us to help you by only requesting a GP appointment if you consider it is really necessary. If appropriate, please go to your local pharmacy first.
Thank you
16th Oct 2020
Online Access using AccurX at the Hollies Medical Centre
You can request an appointment with the GP online with AccurX messaging via the appointment page. Just follow the link on the appointment page and send us the information about your request. This Is for routine enquiries, please call if it is urgent.
There is more information on the Appointment page. We are often dealing with most enquiries within a working day, and arranging your tests, referrals and seeing you at the surgery after messaging and calling you on the phone. We will always see you in the building if necessary and safe.
Why have we got AccurX?
We started to use AccurX during March 2020 to help work remotely during the star of the Covid 19 pandemic. It meant we could easily message and video call patients when we are in lockdown and helped staff work from home in isolation.
We now use it to message patients regularly, receive photos and follow you up. You can message us to help us understand your problem and arrange your contact with the team. We are required to triage all entry to the building still, and this is not likely to end soon.
You can send a request for your dependants and those you care for too. We value your feedback of this innovation, which is helping us deal with unprecedented demand through the Covid19 pandemic.
Many thanks
The Hollies Team
9th Oct 2020
Important update
Verbal Aggression to Staff
Unfortunately over the last few months we have noticed increased incidents of verbal aggression and disrespect towards staff, both on the phone and at the front door. We appreciate how difficult life is at the moment for all of us and understand it can be frustrating, particularly when phone lines are busy and when the systems are working differently. We share this frustration and hope our online messaging and appointment booking will help.
We recognise there will be challenges throughout the winter but is not acceptable to be verbally aggressive or abusive to staff, and sadly this is happening often on a daily basis at the Hollies.
We endeavour to be kind and courteous to all our patients and would expect the same treatment in return. We particularly recognise the challenging situation our receptionists have in dealing with the demand. Without our fantastic reception team we simply would not have a Hollies Medical Centre.
We hope to continue to work together during this challenging period to continue to support each other.
Appointment times & "Do Not Attends (DNAs)"
We urge patients to attend on time for their appointments, particularly with the practice nurses and healthcare assistants. Over recent weeks we have had a number of occasions where patients have arrived late for their appointments. With the increased demands around wearing PPE, cleaning between patient contact and the importance of social distancing in the waiting rooms, it may not be possible for appointments to proceed for those arriving late. It is likely to not be possible to reschedule missed appointments without a significant wait.
There is a very significant pressure on appointments at the moment. It is likely these pressures will continue to increase over the coming weeks due to the rise in winter illness and COVID cases, staff isolation and staff illness.
Stay Safe
We are working very hard to safely maintain routine General Practice whilst balancing this COVID workload. Your support is always appreciated and we will endure winter 2020 together.
5th Aug 2020
Register for Online Services
Our practice offers a wide range of services through an electronic system called SystmOnline.
This will allow you to manage your prescriptions electronically and allow you to book appointments online, view your summary medical record and vaccination history.
We are actively encouraging the use of SystmOnline as this will ease the pressures faced on our reception and administration team and is also more secure system.
To set this up we will need official photo I.D such as your passport or driving licence for example to be able to release your login details.
Please use the link below to access the registration form. Alternatively email or arrange a telephone consultation with one of our administration team, if you would like to get this set-up or have any queries. One of our administration team will get back to you as soon as possible.
Please note when receiving a call from us, this will be a withheld number. Email: hollies.prescriptions@nhs.net Telephone: 0114 255 0094